Get a Copy of the Controversial New Book, "Bullies Suck" – FREE on Amazon Kindle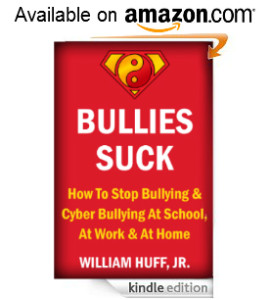 The controversial new book, "Bullies Suck: How to Stop Bullying and Cyber Bullying in Schools, at Work & at Home" is going to be available for a very limited time – FREE.
Starting at midnight on Saturday, March 23rd, through midnight on Wednesay, March 27th, "Bullies Suck" will be available for FREE DOWNLOAD from Amazon Kindle.
If you don't have a Kindle reader, there are multiple apps/readers available for almost every smartphone/tablet/PC/Mac out there; check this list to download the proper reader for your device:
Android Tablets & Phones
Apple/Mac
iPad
iPhone
PC/Laptop
Once you have downloaded your free Kindle reader, you can get your download by following THIS LINK.
This is your only chance to get the new book, "Bullies Suck" for free from Kindle or anywhere else. After Wednesday, March 27th, the free period will be over and the price will jump back up.
If you are like me and like actual, physical, like-to-touch-and-hold-them real books, I have good news/great news; the good news is that the physical copies of "Bullies Suck" will NOT be included with the free promotional period – only the Kindle version is included.
The great news is you can pick up a physical copy of "Bullies Suck" right here on the website – Get the Physical Book – AND you can pick up quite a few bonuses, all for getting the physical book.
Whichever format you wish, THANK YOU for getting your copy. I hope you get as much out of the material as I did putting it together and working with all the people who's experiences contributed to the making of the book.
Free giveaway period starts tonight, March 23rd at midnight and runs until Wednesday, March 27th. Get your Free Copy on Kindle then.
Stay strong,
Sensei